Great & Small Ecopet Hutch & Kennel Cleaner 500ml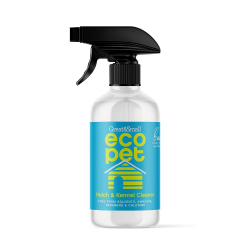 Price:
£7.99
Stock:
3 in stock
Qty:
Add to Cart
We have 3 of this item ready for next day delivery
Overview
Eco Friendly Hutch Cleaner
Cruelty Free and Vegan
Free from Solvents, Ammonia, Parabens & Chlorine
Works on even tough cleaning jobs, designed to not only clean, but also give pet owners an eco-friendly alternative.
A pet friendly cleaner for use on all types of outdoor enclosures such as hutches, runs and kennels.
This Hutch and Kennel cleaner is solvent, ammonia, paraben and chlorine-free and perfectly safe for use around pets and children.
Strong formulation kills 99.9% of all bacteria that can thrive in hutches and kennels, leaving surfaces hygienic and safe.
Eco Hutch and Kennel cleaner is a 3 in 1 product that cleans, sanitises and deodorises all in one easy application.
Ideal for all outdoor animal enclosures and pet carriers.
It can even be used for cleaning, disinfecting and deodorising baskets and food bowls.
Size
500ml
Additional Eco information
The PETE bottle is 100% recyclable, and the black trigger is not spring-loaded as it uses stressed plastic, which also makes it 100% recyclable!
Write Review
Your Name:
Your Review:
Note:

HTML is not translated!
Rating:
Bad
Good
Enter the code in the box below:
There are no additional images for this product.