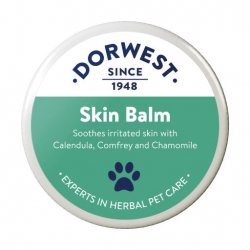 Price:
£12.50
Stock:
1 in stock
Qty:
Add to Cart
We have 1 of this item ready for next day delivery
Overview
Handcrafted to naturally soothe and hydrate irritated skin
Our hand-crafted, lick-safe skin balm is incredibly versatile and perfect for damaged, irritated, dry or problem skin.
What are the ingredients?
Our Skin Balm includes a super soothing infusion of herbs in sunflower and jojoba oils that work together to nourish the skin:
- Comfrey – moisturising, helps to stimulate cell growth and maintain skin elasticity. Ideal for small scrapes and bruises.
- Calendula – has softening properties, aids skin repair and helps to calm irritation. Perfect for sore, itchy skin.
- Chamomile – a super calming herb, ideal for sensitive skin.
With lavender, rose, geranium and mandarin oils blended with natural beeswax and nourishing shea butter, our Skin Balm is the ultimate skin treat for your pet.
When can I use Skin Balm?
Our Skin Balm is a great everyday product to have to hand to help keep your pet's skin in tip-top condition.
Whether it's the cold, damp air of winter or summer heat that is the cause of skin rashes, dryness or irritation, our natural Skin Balm is super calming, moisturising and hydrating.
Minor cuts and grazes can also benefit from the skin repair properties of our Skin Balm, making this product a first aid box essential.
Some breeds, such as French or English Bulldogs, Pugs and Shar Pei's have skin folds which can become irritated and painful if they are cracked or too humid, leading to skin fold dermatitis.
Our Skin Balm can help to calm any irritation, help with the skin's renewal process and maintain skin health.
Size
50ml
Ingredients
Sunflower oil, Jojoba oil, Beeswax, Shea Butter, Calendula, Comfrey,Chamomile, Essential Oils of Rose Geranium, Lavender and Mandarin
Administration
Apply regularly until all signs of soreness, dryness or irritation have disappeared
Can be used during pregnancy and lactation
Write Review
Your Name:
Your Review:
Note:

HTML is not translated!
Rating:
Bad
Good
Enter the code in the box below:
There are no additional images for this product.