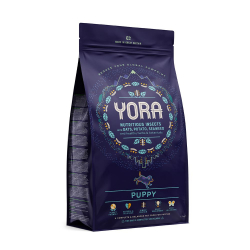 Price:
£84.99
Stock:
1 in stock
Qty:
Add to Cart
We have 1 of this item ready for next day delivery
Overview
Yora Puppy Food
An Insect based Dry Dog food, for all Dogs including those Dogs intolerant to many different proteins in other Dog foods; as well as for those owners looking to lower their Dogs carbon footprint as well as their own. The main protein ingredient is from Hermetia illucens (black soldier fly larvae) that have just the right nutritional profile of protein, fats and minerals to allow your pet to flourish and YORA's clever chefs have combined them with superfoods like oats, beetroot, potato, parsley and seaweed.
Puppy re-mixed for extra protein and added DHA for brain development.
The most sustainable premium dog food in the world and made in the UK
High protein alternative packed with essential amino acids.
Farm meat free with no antibiotics or growth hormones.
Hypoallergenic recipe with added skin and joint care.
Highly palatable with natural vitamins and minerals.
Cruelty free with high animal welfare ethics.
44% Insect (30% Insect Meal, 8.5% Freshly Prepared Insect, 5.5% Insect Oil), 17% Oats, Maize, Peas, 5%, Potato, Minerals, Brewer's Yeast, Linseed, 1% Seaweed, Tomato Pomace, Vitamins, Chicory Pulp, Dried, Beetroot, DHA Dried Algae, Glucosamine (500 mg/kg), Chondroitin Sulphate (500 mg/kg), Dried Carrot, Dried Kale, Dried Parsley, Yucca Extract (480 mg/kg).
Analytical Constituents
Crude protein 26% Fat content 14% Crude fibre 5% Crude Ash 8% Moisture 8% Omega 6, 4.1% Omega 3, 0.5% Calcium 1.2%,
P
hosphorus 0.9%
Metabolisable Energy 357 kcal/100g
Nutritional Additives
(Per kg) Antioxidants: Tocopherol Extracts from Vegetable Oils 3.8 mg; Vitamins: Vitamin A 14,400 IU, Vitamin D3 2,000 IU, Vitamin E 96 IU; Trace Elements: Zinc (Zinc Sulphate Monohydrate) 48 mg, Iron (Iron (II) Sulphate Monohydrate) 48 mg, Manganese (Manganous Sulphate Monohydrate) 33 mg, Copper (Copper (II) Sulphate Pentahydrate) 14 mg, Iodine (Calcium Iodate Anhydrous & Potassium Iodide) 1.7 mg, Selenium (Sodium Selenite) 0.29 mg.
Puppy Feeding Guide per day


| Expected weight | 2 - 6mths | 6 - 9mths | 9 - 12mths |
| --- | --- | --- | --- |
| 1 - 5kg | 70 - 100g | 100-70g | 70g-Adult |
| 5 - 10kg | 170-210g | 210-190g | 190g-Adult |
| 10 - 25kg | 260-300g | 300-290g | 290g-270g |
| 25- 45kg | 450-490g | 490-510g | 510g-480g |
Adult Feeding Guide per day
| | | | | | |
| --- | --- | --- | --- | --- | --- |
| 1-5kg | 5-10kg | 10-20kg | 20- 30kg | 30- 40kg | 40+kg |
| 25-80g | 80 - 130g | 130-220g | 220 - 300g | 300 - 370g | 370g+ |
Size
12kg
Country of Manufacture
UK
Additional Information
We're sure you will be well aware of the global warming crisis that is receiving a lot of
airtime at the minute in documentaries and news articles, but I bet you haven't stopped
to think what impact pets are having due to their meat consumption?
Pet food consumption is responsible for up to 64 million tonnes of carbon dioxide each
year! Producing our bugs (Hermetia Illucens) uses 95% less water than beef and 84% less
water than chicken. Pets need a meat-based diet to thrive and insects make a
sustainable equivalent to traditional meat protein like chicken, they are super nutritious
Yora provides an alternative to meat based or vegetarian pet food for those who are
looking to reduce their environmental impact and reduce their meat consumption.
No low-grade meat by-product or meat meal makes it into YORA's kibbles, meaning that there is only one animal protein source, grubs! Thanks to the hypoallergenic formula, YORA is also suitable for food intolerances, skin conditions, and delicate tummies.
YORA try their very best to reduce their impact on the planet, so they use 100% sustainably sourced whole grubs from Holland. There are huge benefits to using grubs instead of meat due to the vast amount of energy, land, fertilisers and water needed for traditional livestock farming. Hermetia illucens are not sentient beings meaning they don't feel pain or anything else!
Insect protein is easier to digest than fresh chicken!
The oats are a nutritious, low GI source of carbohydrates and they are grown next door to the kitchens YORA is made in.
Beetroot packs a vitamin C punch, potassium for the nervous system and iron.
Parsley is a natural aid to digestion, helps kidney health and has anti-inflammatory
Seaweed is a superfood packed with 73 different essential minerals for bodily
Potato is used as one of the most environmentally friendly crops. They're rich in
phytonutrients, fibre and vitamin C.
Linseed and insect oil provide Omega 3 and 6.
Chicory helps with digestion and stool formation.
Packaging is Sustainable too.
Our
packaging is sustainable? We're trying to make the entire supply chain for Yora as sustainable as possible and therefore our bags contain no plastic and are 100% compostable so can be disposed in a food waste bin or compost heap. Alternatively, you could get experimental and use one of our bags as a potato or tomato growing bag, because of its material, cellulose, it will actually give back to the soil rather than just breakdown.
Our bags are made up of three layers, 2 layers of paper and 1 layer of PLA. The lining of the bag is known as compostable PLA, you do not need to separate the lining, like you might need to do with 'recyclable' packaging. All of the paper used in the production of our bags is from a FSC certified supplier, the company neither cuts nor accepts wood from protected forests, they have put in a state of protection and conservation of 22,000 hectares of its own forests originally destined for commercial use.
During the production process of the paper, any waste is reused by paper mills for the production of recycled paper. The bag is printed with water-based inks to prevent the emission of pollutants or harmful substances into the atmosphere.
Write Review
Your Name:
Your Review:
Note:

HTML is not translated!
Rating:
Bad
Good
Enter the code in the box below:

There are no additional images for this product.