Cotswold Raw Mince Complete Chicken 500g Cat Food Frozen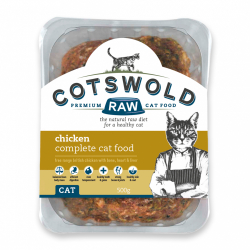 Price:
£4.75
Stock:
4 in stock
Qty:
Add to Cart
We have 4 of this item ready for next day delivery
Pets Pantry are an authorised supplier for this product both in store & for local delivery.
We delivery locally to WA1, WA2, WA3, WA4, WA5, WA6, WA7, WA13, WA55, CW8 and CW9.
Overview
Complete raw minced food for Cats
Chicken Mince
Fresh ingredients used including raw meat, bone and offal.
Formulated for cats, using Cotswold's own supply chain of raw ingredients and includes "Raw Aid for Cats". A high specification nutritional supplement from the experts at GWF Nutrition.
It's designed to help cats thrive on a raw diet and contains 26 essential daily vitamins & minerals for optimum health & wellbeing.
* Supports growth & development – includes folic acid, magnesium, phosphorous & vitamin B2.
* Supports heart health & a strong immune system – with taurine, carnitine, vitamin D3, vitamin E and zinc to support your cat's first line of defence.
* Supports cognitive health & eyesight – includes choline, vitamin A and vitamin B6
* Supports general health & wellbeing – with high levels of coconut & seaweed meal and omega 3.
* Formulated with protected minerals to increase the bio-availability of important nutrients.
Ingredients
80% British Chicken with bone, Chicken Heart, Chicken Liver (97.5%). Sea Kelp, Milled Flax Seed, Beet Pulp, Copra, Sunflower & Linseed Oil, Molasses, Mineral & Vitamin
Pre-mix.
Analysis:
Moisture 67.9%, Protein 18.1%, Fat 12.1%, Ash 0.6%, Fibre 0.5%. Vit A 833iu, Vit E 41mg, Taurine167mg, Carnitine 17mg, Manganese 9mg, Copper 3.5mg
Energy 1830kcal/kg
Ca:P ratio 1.6
Size
500g
Write Review
Your Name:
Your Review:
Note:

HTML is not translated!
Rating:
Bad
Good
Enter the code in the box below:

There are no additional images for this product.